Now you can make images that pop off the page without spending a penny.
Have you ever wondered how to get rid of an ugly background on the perfect image?
Have you wondered how to add cool frames and text to images?
Wanna make a collage with some great photos like on  this blog.
Would you like to know how to take an image from blah to 'POW' in just a matter a minutes?
I'm going to show you how to take a plain image or photo and how to change it to something that pops off the page.
Watch this video to see at least 4 free tools that I use daily to make images that work with the overall layout of my blog, that attract the eyes of my readers and that help my blog its, "Wow, that's different!" feel.
That what you want.
Stand out from the crowd.
Step 1: Select images that you want to work with:
Tools I Use to Snag the Perfect Images:
Google Search (Images Only)-Search the entire internet for just the right image using Google search.
123rf.com They have many of the same images as some of the pricier sites and they have great backgrounds.
Step 2: Edit Out a Distracting Background:
I use ClippingMagic.com to do it. Use the tool to select the portion of the image that you want to keep and part to erase (make transparent).
Check it out:
Step 3: Add the desired background, text, border or frame, and correct the size: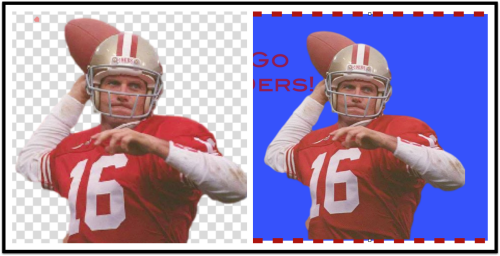 Some Free Tools that I Use To Make Pictures More Attractive
Add Text, Add Borders and Frames and Effects, and More with these tools and commands:
PowerPoint on a PC
Keynote on a Mac
Ribbet.com
AddText.com
PicMonkey.com
PicResize.com
Windows App: Search for the Snipping Tool
Mac: Command Shift 4 to create a screen capture for a selection. Place the cursor on one corner of the desired area, click and drag to the opposite corner of the desired area.
Command Shift 3 to create a screen capture for the entire screen.
Command Shift 4 Space Bar to create a screen capture for a window. Then select the window and press enter.
You only have a second to grab your reader's attention with an image that triggers some emotion or makes them take notice.  Use these tools and get going.
If you have questions on the tools, leave them in the comments down below.
Sign up to get more tips on how to make blogging, Facebook and YouTube work for you:
Making Pictures that Pop,
Niquelle Wright
P.S.  In the video, I mentioned some Facebook Ad specs.  Click here for more information about Facebook image specs and ads.